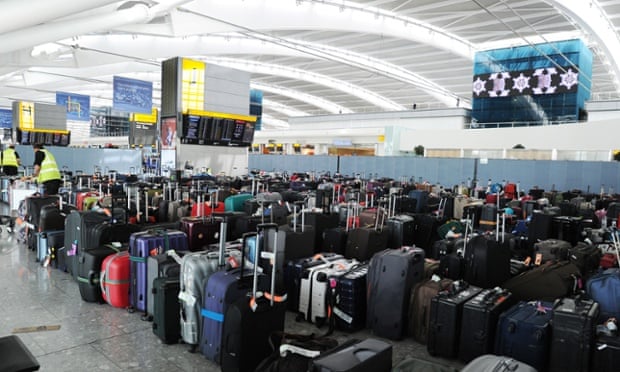 No, thanks, bubbas. Not for dear old Reb MacRath. I can't say I'll never fly, but I can swear to this much: I'll never fly again unless I really have no choice.
But why would I spend $138 for a round trip 40-hour bus ride from Seattle to San Francisco-when I could fly for $50 more, in just 90 minutes each way?
About 19 extra hours each way
? Let's start with the money, since we all like to save, I maintain that I save a good deal more, since I can pack a home-made gourmet lunch and supper for the bus for a fraction of what I would pay for snacks before plane departure and on board the flight. Since bus and train terminals are downtown in most cities, cab fare will be a lot less, if I do need a cab. I'm allowed to bring cologne, after shave, toothpaste in their natural containers...so I'm saving on travel-sized rip-offs.
The time factor also deserves a bit more thought. 20 hours may sound horrible when compared with 90 minutes. But when I fly, I leave home 3 or 4 hours before departure time--to get to the airport and clear security. Flights are often delayed by an hour or more. And when they land, it may take me an hour to deboard; get my baggage; find a bus, rent a car or hail a cab. I may then need another hour to reach my destination. Add all this together with the flight time--and it may be close to ten hours each way. Ten hours we've all been trained to not even consider.
Train and bus travel are already looking much better. But I based my decision on the bigger picture. The cardinal charges against flight are these:
1) Discomfort and low-rent experience.
Thirty, forty, years ago I found rich adventures in travel by plane: pleasant hours in the terminals, bars and smoking rooms...room to stretch out on the flights...occasionally far better than average food. I recall no flight hysteria, none of the anger or hostility that are so common now. For years, when I've had to fly, I've been in agitated moods to and from all airports...and every instant that I was on board. I arrive, my body scrunched and my belly growling for food.
2) Spiritual unrest.
How we set forth on a journey does quite a bit to determine the state of our spirit when we arrive. I'm sick of being rushed and jostled and herded. No, thanks.
3) Insecurity checks.
I understand the need for strict airport security and I don't take the subject lightly. Nor do I have reason to fear anyone searching my bags. That said, I'll take the train or bus, avoiding the high stress.
4) And on and on and on.
My list is so long I don't know where to start: from the pathetic bags of peanuts and cookies to the charges for carry-on bags...from unattractive flight attendants to the lack of blankets and pillows...from the five-inch back-of-the-seat TV screens to the rotten earphones.. Nothing about the flight experience is designed at present to put a smile on travelers' mugs. Nothing about the experience has our comfort or pleasure in mind.
The best thing I've seen on the subject of the still Bigger Picture is the following quote that I received from author Richard Monaco. Source: The Daily Kos.
Few experiences are as universal to Americans as the shared degradation and misery of flying on our nation's air carriers. These corporate behemoths have somehow managed to wrap up everything wrong with this country and present it to us as a package deal: income inequality, corporate indifference, dwindling services, automation and skyrocketing prices all combined to make flying a tortuous chore rather than a pleasure, particularly in the last ten years. It's no different than fiscal austerity, really--just a calculated effort to push the limits of greed for a tiny minority to the point where Americans won't tolerate any more, then convincing us that such a drastically diminished quality of life is the "new normal."
And Americans continue to suffer it, because in most cases they feel they have to. For many, travel is a necessity for their livelihood. For others with scattered families travel is the only way to maintain personal connections. The airlines understand they're fulfilling a need, and at this point they've abandoned any pretense of actually caring about what their customers think of them. Thus an unnamed major carrier is considering something called "economy minus"where it can shove more people into its metal cylinders, gutting personal legroom and offering no services at all except (perhaps) a toilet.
The power of the corporations to collude is nowhere more visible than among the airlines. It's practically impossible to keep track of which airline has merged with another. There are, it seems, only about two or three actual airlines that carry the vast majority of passengers in the Continental U.S. Deregulation, once promoted to "foster competition," and a near-constant train of mergers have created a perverse state where the airlines can now collude together to provide poorer levels of service.